Grand Tour Murtensee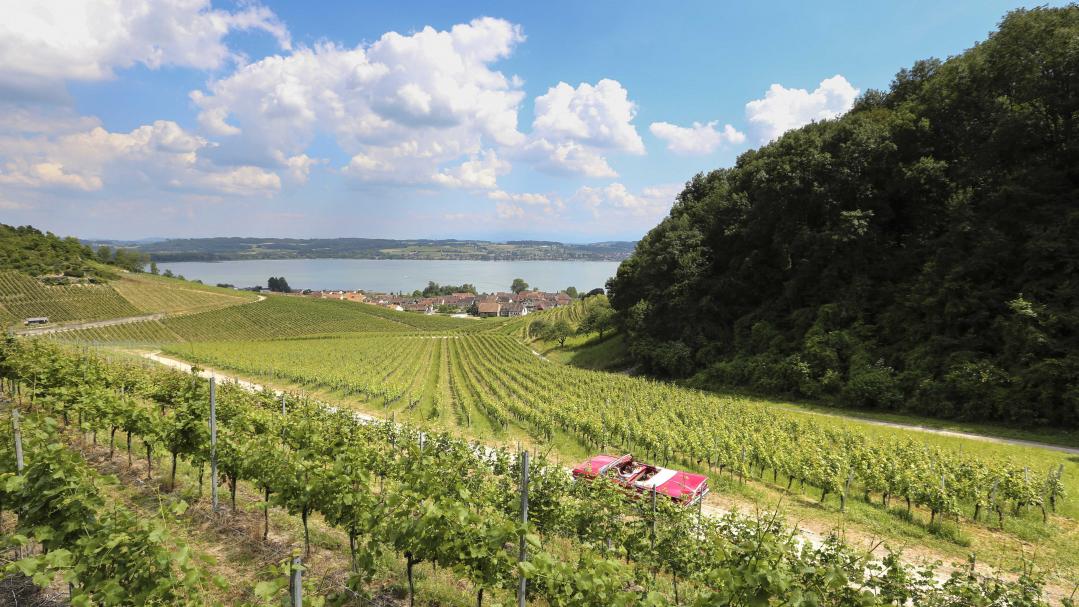 Description
The section of the Grand Tour of Switzerland in the region of Lake Murten begins in the vineyards of Mont Vully. The Region delighted with charming wine villages and inviting wine-cellars. The next milestone is the Zähringer town of Murten.
Thanks to the inclusive day parking ticket, you can enjoy without any time pressure a leisurely coffee under the arcades or a walk on the rampart walls. Discover the variety of activities from the region of Murten. After a car wash service you will leave the quiet Mediterranean atmosphere behind and the wind will blow again through your hair.

Services included
(per person) - 1 or 2 nights at a hotel (breakfast included)
- 1 daily parking card inside the old town
- 1 car wash service
- 1 entry to the Papiliorama in Kerzers
- 1 souvenir surprise

+ 1 brochure "Murten - Enjoy it" to visit the Old Town
+ 1 InfoGuide with propositions for activities and the list of the restaurants

Further information
- Activities in the Vully: www.levully.ch / www.vullyleslacs-tourisme.ch
- Website of Papiliorama: www.papiliorama.ch
- You can choose the order and the type of activities on your own. However, no services are refundable, also if you didn't make use of them.

Remarks
- The tourist tax has to be paid directly at the hotel.
- Offer subject to availability and modifications.

Duration of stay
1 or 2 nights
---
Prices
Price per person/night in peak periods 01.04.-31.10.
Double room hotel**
100 CHF
Double room hotel***
110 CHF
Double room hotel****
155 CHF
2 night - Double room hotel**
165 CHF
2 night - Double room hotel***
185 CHF
2 night - Double room hotel****
215 CHF
Price per person/night in off-peak periods 01.11.-31.03.
Double room hotel**
95 CHF
Double room hotel***
102.5 CHF
Double room hotel****
125 CHF
2 night - Double room hotel**
155 CHF
2 night - Double room hotel***
170 CHF
2 night - Double room hotel****
200 CHF
Murten Tourismus
Französische Kirchgasse 6
3280 Murten
+41 26 670 51 12
info@murtentourismus.ch
http://www.murtentourismus.ch
---
Opening hours
From 1 janv. 2021 to 31 déc. 2021